TRACO CABLE COMPANY LIMITED (TRACO) is one of the Public Sector Undertakings in the state of Kerala-South India and is an ISO 9001certified Company, established in 1964. The company has three manufacturing units. The first unit of TRACO is at Irimpanam- Tripunithura in Ernakulam District and the second one is at Thiruvalla – Chumathra in Pathanamthitta District. The third Unit is the newest one commissioned in 2011 exclusively for the building wiring cables at Pinarayi-Thalassery in Kannur District. Presently, the installed capacity of both Irimpanam Unit and Thiruvalla Unit is 9000 MT of Aluminium Wire Rod conversion.
We have been in the forefront in meeting the needs of major customers like various Electricity Boards, Railways, BSNL and ESCOMS of other states and to the various project groups.
With an employee strength is 500, our vision to grow in the country as one of the pioneers in the cable industry catering the needs of all its customers with timely delivered quality products.
OUR VISION
We will be a national player as the deliverer of cables and conductors through continual improvement on the R&D and Quality.
OUR MISSION
To achieve 300 Crore turnover by 2023 Meeting the customer's requirements with quality products Continuously adopting the state of the art technology in the Industry Providing the products at affordable prices.
Unit of TRACO at Irimpanam in Ernakulam District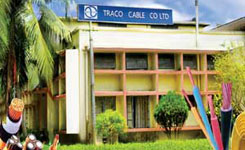 The first unit of TRACO cable Company was established at Irimpanam in the year 1964, in collaboration with KELSEY Engineering Co. Ltd, Canada. Presently this unit has the product mix of Overhead Conductors (AAC /ACSR/AAAC), Power Cables, Control Cables and Signaling Cables.


Unit of TRACO at Thiruvalla in Pathanamthitta District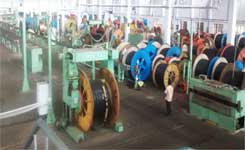 The second unit at Thiruvalla was set up in the year 1989 and presently this Unit has facilities for the manufacture of bare conductors (AAC, ACSR Conductors), Power Cables (XLPE-LT/HT-UG) and Aerial Bunched Cables (ABC) for production of up to 33 Kv.

House Wiring Unit at Pinarayi in Kannur District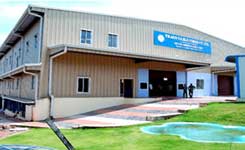 TRACO has set up a building wiring cable unit at Padannakkara, P.O, Pinarayi, Thalassery in Kannur District in the year 2012. The unit is for exclusive production of building wiring cables for the sizes ranging from 1 sq. mm to 10 sq.mm.


Products From the house of TRACO
All Aluminium Conductors (AAC) are manufactured as per IS: 398 (Part1)for power distribution.

All Aluminium Alloy Conductors (AAAC) as per IS :398 (Part IV) for power distribution

Aluminium conductors with Steel Reinforcement (ACSR) as per IS: 398 (Part II) for power distribution and transmission up to 61 strands.

Power cables (copper and aluminium) conductors up to 1100 volts and control cables /signaling cables (copper conductors up to 37 conductors) as per IS: 1554 with PVC insulation. These cables are used for railways, transmission lines.
Weather proof cables (aluminium conductor, PVC insulated single / multi core) for power service connection as per IS: 694 specifications

House wiring and flexible cables (copper conductor up to 128 strands) as per IS: 694 specifications( 1sq.mm,1.5sqmm,2.5sqmm,4sqmm,6sqmm and 10sq.mm PVC insulated(FRLS) single core copper wires up to 1100v.

LT/HT Aerial Bunched Cables up to the range of 11kv as per IS 14255 and IS 7098Part -II

XLPE LT/HT/UG Cables as per IS 7098 PART I and II.up to 11kv .
Reg: Office: Sea Port - Airport Road, Irimpanam P.O, Tripunithura, Ernakulam, Kerala, India. PIN: 682 309.
Phone: 91-0484-2314847, 2314864, 2311851(D), Fax : 0484 2312744
email:head.marketing@tracocable.com,md@tracocable.com
(A Kerala Government Company)
Contact Email: md@tracocable.com, md_office@tracocable.com, head.marketing@tracocable.com